Last April Ferrari World in Abu-Dhabi opened its latest addition to their park. A new dark-ride called "Benno's Great Race" which is mainly focussed on family visitors and younger guests. The ride is based on a story about the mouse "Benno" using his Ferrari. The Ferraris featuring in this ride are 11 unique bodies placed by ETF Ride Systems on trackless ETF Multi Mover vehicles. Each vehicle can accommodate 5 guests. The ride is using the unique trackless options such as 4 dead-ends in the ride path.
The ride is heavily themed with 3D props and several screens which fit within the story including 5 interactive screens. This new and unique interactive system was provided by Alterface Projects from Belgium, under direction of ETF during this project. Pure Imagination from the USA provided the media for the whole ride.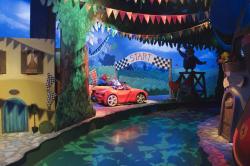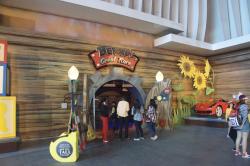 Not a standard shooting system is used in this ride, but a brand new system. Where, in this case, the on-board wrench can be used for several functions. E.g. there are screens by which you have to cut the cobwebs with a pair of scissors, on another screen one has to catch the bees and put them into a jar, or assemble parts of a Ferrari car to make it "real live" and other similar applications. Of course every player is using its own colour marked pointer on the screen. The last scene uses a roller shutter door as a presentation screen. When Benno's Ferrari can move again on the screen, the shutter door opens and the actual vehicle also continues its journey to the "Grand Finale" of the ride. It all ends with unique fireworks created by the vehicle passengers themselves.