Special Machines
Customised specials
All ETF machine concepts that are developed for floorcoverings can be applied to different areas. Our imaginative engineering department is excellent at translating your specific requirements into a unique design of a made to measure machine. Everything is possible.
For around 75 years of manufacturing machines we have built a special designed machine for application in another industry on numerous occasions. Even specials like a pick and place unit and polystyreen forming unit. The processes in floorcovering production are not unique. We are able to translate them into different areas.
The examples below illustrate this:
Vinyl sawin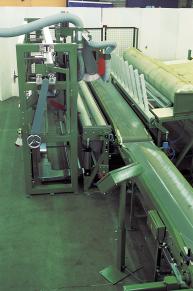 g machine M 6430
The ETF vinyl sawing machine is perfect for cutting 4 metre rolls into e.g. 2+2 metre width rolls or 3+1 metre. The sawing position is supplied with a rolling unit which contributes to fast cycle times.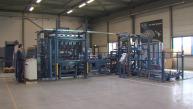 Lead slitting & rolling machine M 9630
ETF developed a machine for slitting, cross cutting and rolling of lead, both with or without a tube. This machine is a complete finishing system when delivered with tape dispensers for securing the roll, an on-line weighing and labelling system and an automatic palletising system.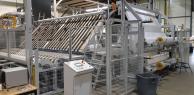 Off line wrapping machine artificial grass M 5220
ETF Automatic wrapping machine for offline wrapping of mummified rolls of artificial grass with large diameters.



Re-rolling machine conveyer belt material M 6325
The ETF re-rolling machine for conveyer belt material has been developed for re-rolling both lightly woven inlay material and heavy conveyor belt material including automatic transportation and inspection.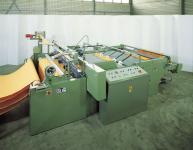 Cut & stack machine M 5523
This ETF machine is the best choice for quick and accurate cutting and stacking of non-wovens and synthetic materials such as shammy, household cloth etc.

Would you like to know about the possibility of getting a machine designed specially for your challenge?
Please contact our sales team.
< Back to overview